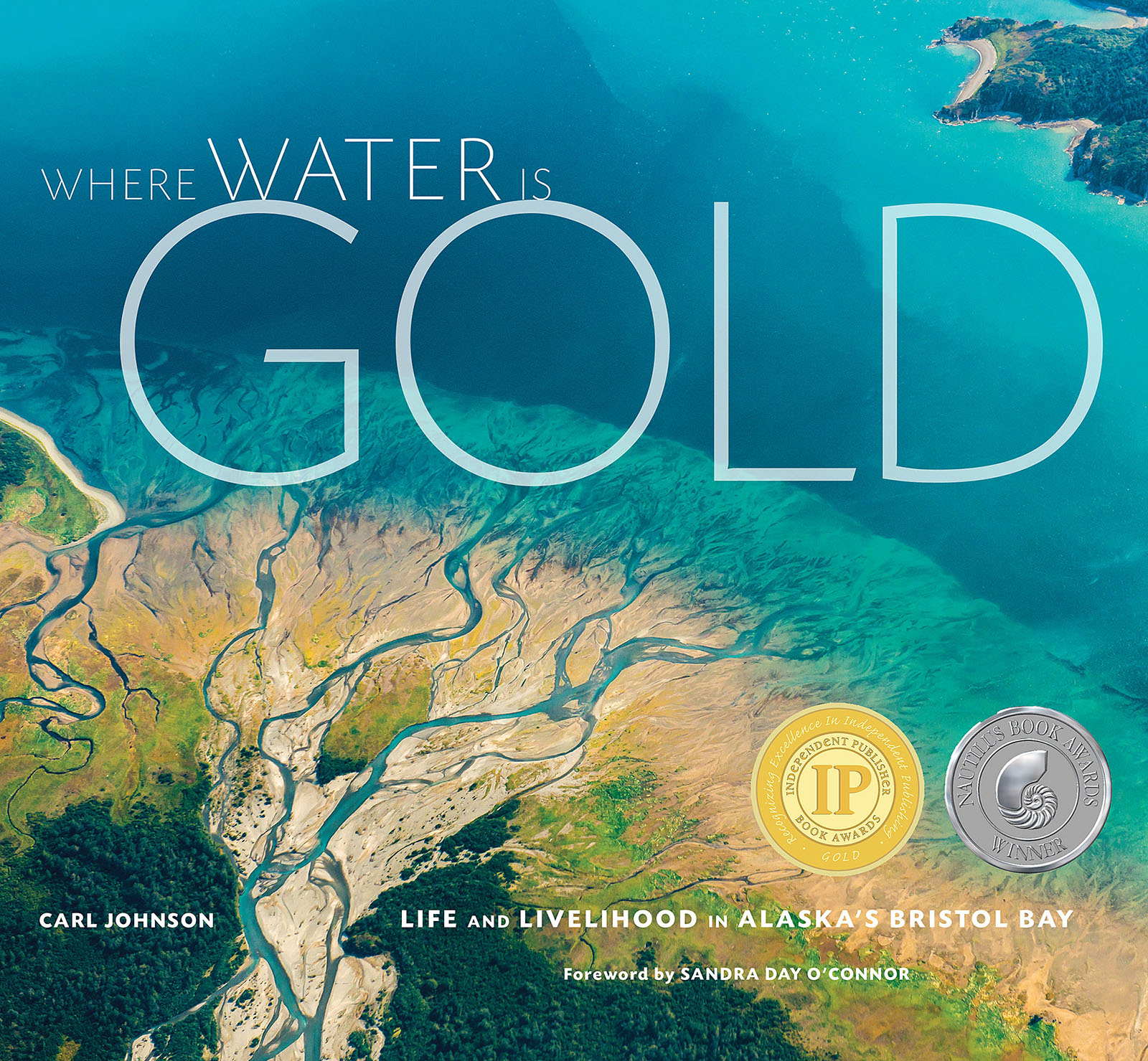 Where Water is Gold: Life and Livelihood in Alaska's Bristol Bay explores the history, culture, economy and science of a water-rich region that supplies half of the world's wild sockeye salmon supply. The incredible salmon runs for the region provide prime brown bear viewing and sustain a rich way of life for the area's indigenous peoples. It is also on the verge of being altered forever by several large mining projects.
Overview

Where Water is Gold: Life and Livelihood in Alaska's Bristol Bay was designed to provide an in-depth look at the way of life in the southwestern part of Alaska known as the Bristol Bay region. It is meant to not only inform about the rich resources that provide that way of life, but to highlight what is at stake and under threat from large mining projects like the Pebble Mine.
Content
Based on five years of fieldwork by Anchorage photographer Carl Johnson, it explores the incredible scenery and abundant wildlife of the region, the traditional subsistence way of life of its residents, the economic powerhouse that is the commercial fishing industry, and the rich and diverse recreational opportunities of the region from fly fishing to bear viewing. It also includes an exploration on the history of mineral exploration and the opposition to the development of the Pebble Mine.
Features
Full color photography book with 176 pages with 193 photos and 4 maps. Primary essays and their authors include:
Foreword by retired U.S. Supreme Court Justice Sandra Day O'Connor
Introduction to the region by Bill Sherwonit
Commercial fishing industry by David Atcheson
Subsistence way of life by Steve Kahn and Anne Coray
Recreational opportunities by Nick Jans
History of mineral exploration and potential impacts by Erin McKittrick
---
Awards

Gold Medal in the 2017 Independent Publisher Book Awards, "West-Pacific – Best Regional Nonfiction"
Silver Medal in the 2016 Nautilus Book Awards, "Green Living & Sustainability"


---

Endorsements
"Where Water is Gold is a masterpiece and a visual delight, but Carl's caring commitment is what takes it to a higher level."
Vic Fischer, Alaska Constitutional Convention delegate
"The book is simply beautiful, outstanding. I read through it several times, particularly delightfully after the Alaska Supreme Court decisions on the Pebble law suit. Carl really did a great job providing an intimate view of Bristol Bay and its people."
Bella Hammond, former Alaska First Lady
"I just received your book. It's absolutely beautiful. The photography is outstanding and everything about it is wonderful! Thank you so much for putting me on your list."
"We are absolutely thrilled that Carl is embarking on this important book and multimedia project. Bristol Bay, its surrounding public lands, and aquatic and terrestrial wildlife are under threat from large-scale industrial development, particularly that of the proposed Pebble Mine. It's absolutely critical that the world understand what's at risk. I've always believed that one of the best ways to tell the story of Bristol Bay is through compelling and beautiful photography and videography. While some say a picture is worth 1000 words - Carl's may be worth thousands of existing jobs and tens of millions of dollars to the local economy."

Tim Bristol, Alaska Program Director, Trout Unlimited
"Carl's photography and book will be an important communication and inspiration tool that will show others who have not been to Bristol Bay what would be lost if Pebble is developed. The best way to experience the spectacular beauty, unique lifestyle, and rives that run literally red if you can't seem them in person, is through the lens of a talented photographer like Mr. Johnson."
Valerie Connor, Conservation Director, The Alaska Center
"We all know a picture is worth a thousand words, and Carl's talents in capturing compelling images tell the story everyone needs to hear: that the Bristol Bay watershed is one of a kind that deserves protection."
Jim Stratten, Senior Regional Director, Alaska and the Pacific Northwest, National Parks Conservation Association
"[W]e have been impressed with Carl's stunning photography, the diversity of subjects he interviews, the stories he explores, his ability to build relationships in a culturally unique and logistically challenging region in Alaska. Carl is a longstanding member and supporter of NPCA and our national parks. He clearly understands the role our national parks play in protecting a portion of the Bristol Bay watershed, as well as the potential for an industrial mining district to impair the pristine resources, traditional lifestyles, and recreational opportunities entwined with our national parks."
---
Amazon Reviews

"So often, these kinds of issues are framed as jobs versus the environment. In the case of Bristol Bay, Alaska however, it is clear that a massive proposed mine will destroy already-existing jobs, the environment, and a way of life that has existed for thousands of years. People have been migrating to Bristol Bay every summer to partake in the bounty of the world's largest sockeye salmon fishery. Carl Johnson shows us what's at stake through his beautiful photographs and insightful profiles of people who rely on Bristol Bay remaining what it currently is -- a thriving intact ecosystem with people as an integral part." - Amy Gulick, Salmon in the Trees
"The photography is fantastic! The accompanying essays are icing on the cake." - Lea Filippi, Anchorage
"I have purchased 4 copies of this book and have given as gifts to fishing and photographer friends. The images are spectacular and the writing superb. This is one of 2 coffee table books in my living room at this time. I highly recommend this for anyone on your gift list that is an outdoorsmand, photographer, fisherman." - J. Quimby, Anchorage
"I would highly recommend this book to anyone who loves Alaska. The photographs are stunning. The area this book covers is one of the most beautiful areas of all of Alaska, and that is saying a lot. Beautifully written, unbelievable photographs, this is my favorite coffee table book." - Lee
"We met Carl and his wife on a trip to Alaska and have kept up with his writings. I have been very interested in preserving this area from the total ruin that mining would bring and was so very pleased to see this book into print. It is beyond my expectations with photos and commentary." - Sam Evans
"The people and wildlife of the Bristol Bay region are under attack from mining operations which threaten a way of life for people and life itself for native fish and wildlife. This very informative book describes the region and its people in well told stories and beautiful photographs. Being from the lower 48 I had no idea what was going on in that region and now feel empowered to find ways to help the areas inhabitants in their struggle against the Pebble Mine."
"I was lucky to travel with Carl on part of his quest to capture the delicate beauty of an endangered corner of wild Alaska and Lake Clark National Park. Now, seeing his work in print, I am blown away by his sharp images and human stories that effectively bring the vividness of the region to readers. A copy of this book lives on my coffee table, and it is the first to be picked up by visitors, and the conversation quickly becomes about the protecting the beauty and resources of this region!!"
"This is a spectacular book. The photographs are amazing, as if you are set in the location in person. The personal accounts of the region and the reasons against the Pebble Mine development should resonate with anyone, even those who haven't been to Bristol Bay itself. More than a coffee table book, this beautiful book belongs alongside the cadre of activist tomes that have actually done a greater good in the world. It's not enough to simply buy this book--hopefully it will also spur you to take action for this area and all the things that make it special."
"Beautiful book and amazing pictures" - Kelsey Brunner
"I bought this book for the exquisite photography but found myself not able to put it down until I read every essay. I was unfamiliar with the Pebble Mine project and I appreciate being introduced to it in a way that engaged my logical/reasoning mind as well as the emotional. That being said, for me the main attraction is the photography- it rivals anything that I have seen. I find myself looking at the book when wanting to relax, wanting to engage in beauty, or simply wanting to while away the time in pleasant reverie. I highly recommend this book for living rooms, waiting rooms, lounges… anywhere people congregate." - Kirstin Juhl
"As a Bristol Bay fisherman, I love this book!"
"This book contains some of the most beautiful pictures of Alaska I've ever seen. I placed a copy in my lobby for my clients to enjoy as well. I highly recommend this book to everyone how loves Alaska!"
"Our exploding population needs to be fed. Bristol Bay, over a 10 year period, provided over 32 million red salmon per year as well as many other varieties of fish. This beautiful book of photographs and essays helps us understand the danger of allowing the Pebble Mine Project to destroy the environment which provides this treasure. It would also destroy jobs and a way of life. The repercussions would be devastating to the flora and fauna of the area as well."