Where Water is Gold

Beginning in the summer of 2011, Carl embarked on a journey to create a comprehensive photo-essay book that explores the science, culture and history of the Bristol Bay region of Alaska. The project will examine the way of life in the region as reflected in commercial fishing, subsistence, and recreational activities. In such a wondrous state as Alaska, the Bristol Bay region stands out as a land of natural riches, abundance and culture unparalleled in the United States.
Braided River, the conservation imprint of The Mountaineers Books, released the book in 2016. The book is titled Where Water is Gold: Life and Livelihood in Alaska's Bristol Bay. Carl concluded the principal fieldwork for the book in June 2015, but plans to continue photographing in the area to provide ongoing content for the website dedicated to the project. The website also includes letters of support and information on project partners and sponsors.
You can see detailed news and milestones below that highlight the history of this project. Look in the Conservation category for blog posts about future work related to this project.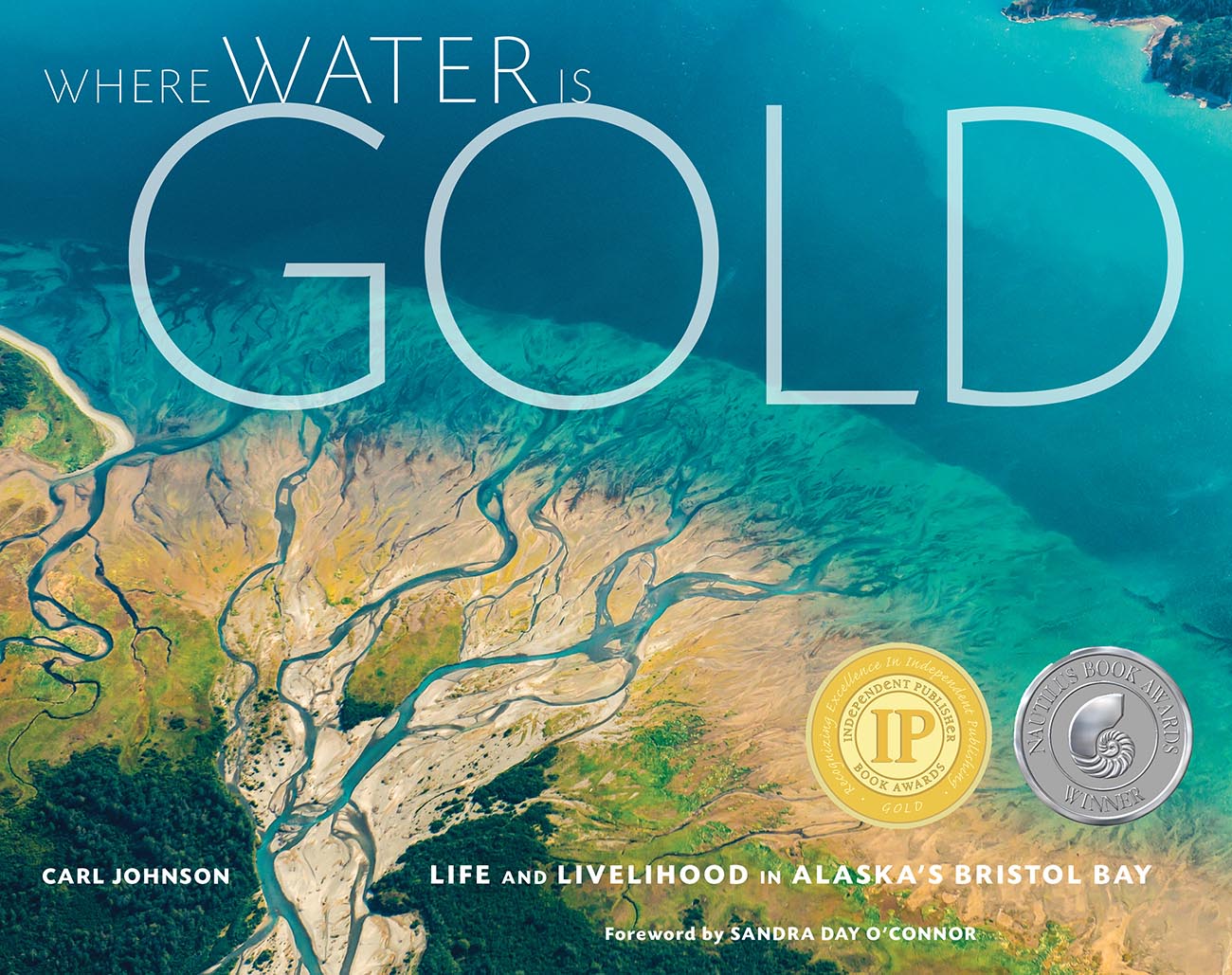 ---
Coverage in July 2017 Outdoor Photographer

Amy Gulick is a seasoned conservation photographer and founding member of the International League of Conservation Photographers. She also hosts a column in Outdoor Photographer magazine where she highlights conservation work by different photographers. I am pleased and honored to be featured in the July 2017 issue of Outdoor Photographer for my work to protect Bristol Bay through Where Water is Gold. The issue is not yet available online, so run to your nearest news stand and buy a copy today!
Silver Medal in Nautilus Book Awards
I am excited to announce that Where Water is Gold has earned a Silver Medal in the 2016 Nautilus Book Awards, in the category "Green Living & Sustainability." Read more here.
Gold Medal in Independent Publisher Book Awards
I am excited to announce that Where Water is Gold has earned a Gold Medal in the 2017 Independent Publisher Book Awards, in the category "West-Pacific - Best Regional Non-Fiction." Read more here.
Interview on "Outdoor Explorer" - March 23,2017
Thanks to Alaska Public Media and Outdoor Explorer for including Carl for an interview about Where Water is Gold for their program about Bristol Bay! You can listen to the full program here.
Seattle Presentations
Filson Seattle Flagship store, March 31, 6-8 p.m.
"Experience the World's Greatest Sockeye Salmon Run"
Read more about the event on the Filson website.

Suquamish Museum, April 1, 3-5 p.m.
"Where Water is Gold: Alaska's Bristol Bay"
Read more on the Braided River Facebook event page.
Interview on the Around the Lens Podcast
I had the pleasure to interview with the Around the Lens Podcast, a format principally for discussions related to photojournalism. In addition to their regular podcast consisting of a rotating group of photographers (of which I am an occasional member), they are starting to do interviews with various photographers. So listen to this podcast to learn more about Where Water is Gold and my approach to this project.
Testimonial from Vic Fischer
I am honored to have been contacted by Victor Fischer, who provided this testimonial about Where Water is Gold:
"The book is simply beautiful, outstanding. I read through it several times, particularly delightfully after the Alaska Supreme Court decisions on the Pebble law suit. Carl really did a great job providing an intimate view of Bristol Bay and its people."
Vic Fischer is one of two surviving delegates to the Alaska Constitutional Convention that took place in Fairbanks starting on November 8, 1955. He served on the committee that drafted the final langugage of the Alaska Constitution that was first adopted by the delegates on February 5, 1956 and ultimately ratified by the people of Alaska on April 24, 1956. Because of his intimate knowledge of the Alaska Constitution, the intent of the delegates in adopting Article VIII of the Alaska Constitution, which deals with natural resources, Vic was one of the plaintiffs in a lawsuit that challenged the State of Alaska's practice of approving large scale hard rock mineral exploration without a public process. This lawsuit targeted the 20+ years of exploration at the Pebble Prospect that occurred outside of public input. The Alaska Supreme Court sided with the plaintiffs in two opinions issued in May 2015.
High Country News Reading List
I am pleased to announce that High Country News has selected Where Water as Gold for its list of "Recommended reading to take you into the next year." If you are not familiar with High Country News, it is a magazine "For People Who Care About the West." It covers a variety of issues from energy to wildlife to public lands management. I am excited and honored for my book to be considered among "The season's best titles for new fiction and nonfiction."
Testimonial by Jim Brandenburg
Over 20 years ago, I worked as a canoe guide in the Boundary Water Canoe Area Wilderness of northern Minnesota. I became familiar with the work of Jim Brandenburg, who inspired me not only by his vision but through his dedication to conservation. When I published Where Water is Gold, I had to send him a copy and thank him for the inspiration he provided me to work for conservation.

After receiving a copy of the book, Jim had this to say: "Where Water is Gold is a masterpiece and a visual delight, but Carl's caring commitment is what takes it to a higher level."

Thank you, Jim! I will keep my commitment going.
Review by Amy Gulick
Amy Gulick, one of the founding members of the International League of Conservation Photographers, a columnist for Outdoor Photographer magazine, and photographer behind Salmon in the Trees, has written a reivew of Where Water is Gold for Amazon.com:

"So often, these kinds of issues are framed as jobs versus the environment. In the case of Bristol Bay, Alaska however, it is clear that a massive proposed mine will destroy already-existing jobs, the environment, and a way of life that has existed for thousands of years. People have been migrating to Bristol Bay every summer to partake in the bounty of the world's largest sockeye salmon fishery. Carl Johnson shows us what's at stake through his beautiful photographs and insightful profiles of people who rely on Bristol Bay remaining what it currently is -- a thriving intact ecosystem with people as an integral part."

Thank you, Amy!
Excerpt of book in October issue of Alaska Magazine
The October 2016 issue of Alaska magazine contains an excerpt from Where Water is Gold. The excerpt is from Steve Kahn's and Anne Coray's essay on the subsistence way of life.
Review of book in Alaska Dispatch News, "We Alaskans" segment
In its October 2, 2016 edition of "We Alaskans," Alaska Dispatch News contributor Nancy Lord write a review of Where Water is Gold. The piece begins with Nancy writing, "Anchorage photographer Carl Johnson is no ordinary photographer intent on capturing artful images." She later indicates that the photographs "are the book's treasure," and that Carl's "feeling for his subjects and his skill in depicting them are apparent." Read the entire review online.
Review of book in PDN Magazine
PDN Magazine has written a review of Where Water is Gold, along with some background on Carl's photography career and how he came to develop this project. It also speaks of the collaborative process in developing the book with Braided River staff. Early in the article, PDN notes, "Where Water is Gold is simultaneously an exhaustive, academic, visual cataloguing of a way of life, and a love letter to a place." Later, PDN observes, "The diversity of images in the book speaks to Johnson's deep experience working in the Alaskan wilderness."
Excerpt from book published in Alaska Sporting Journal
The Alaska Sporting Journal has published an excerpt from Where Water is Gold. Given the nature of their audience, the Journal published Nick Jans' essay highlighting the incredible recreation and tourism values of the Bristol Bay region.
Post about Twin Lakes in Longitude Books' "Favorite Spot"
Longitude Books, which recommends reading for those with travel in mind, has featured Twin Lakes in its "A Favorite Spot" segment on its blog as part of bringing Where Water is Gold to its readers. It's a pleasure to be included in this audience, and to provide a little sample of the wonders that Bristol Bay offers.
Interview on the KTVA morning program "Daybreak," July 19, 2016
Anchorage CBS affiliate KTVA interviewed Carl Johnson on its morning program "Daybreak" about Where Water is Gold. You can see that interview here.
KDLG coverage of Where Water is Gold
Dillingham public radio affiliate KDLG has posted a piece about the book, including some audio from an interview with Carl Johnson. You can see the piece here.