Along time ago, in a career far, far away, I had a small gallery downtown. It was at a time when I was doing any kind of photography work that would pay – commercial, portraits, weddings, sports, events. Nature photography was where my passion truly bloomed, and that is why I wanted to have a gallery.
It wasn't much, less than 200 square feet in the back corner of a mall on the fringes of downtown. In what was commonly known as the "Post Office Mall" (it had a Post Office, but does not today), and today officially as the Fourth Avenue Market Place, my gallery provided the opportunity for some exposure. A little. But is how I met Michelle, on a quiet Sunday afternoon in June 2006 when I was one of the only shops open in the whole place and she was killing time before having dinner with her mom.
In about 2007, I abandoned the gallery. It was not a good location, and working full time as a practicing attorney did not afford me the opportunity to staff it as needed. I certainly was not in the position to hire anyone, that is for sure.
After Michelle and I married, we started thinking of ways we could build onto our home near Jewel Lake. Of course, one of my ideas was to build a gallery space over a garage that would be part of the construction plans. In reviewing our construction vision with architects and builders, however, we determined that it would cost less to purchase a new property that had the things we wanted. So, we moved to the Anchorage hillside.
One of the features in our new property was a two-story outbuilding: workshop on the ground floor and greenhouse on the second floor. Not long after living there, I suggested to Michelle that the workshop (which we also used for general storage) would really make a great gallery. She was reluctant, but over time I convinced her that if the space was not being used regularly as a workshop, we would convert it to a gallery.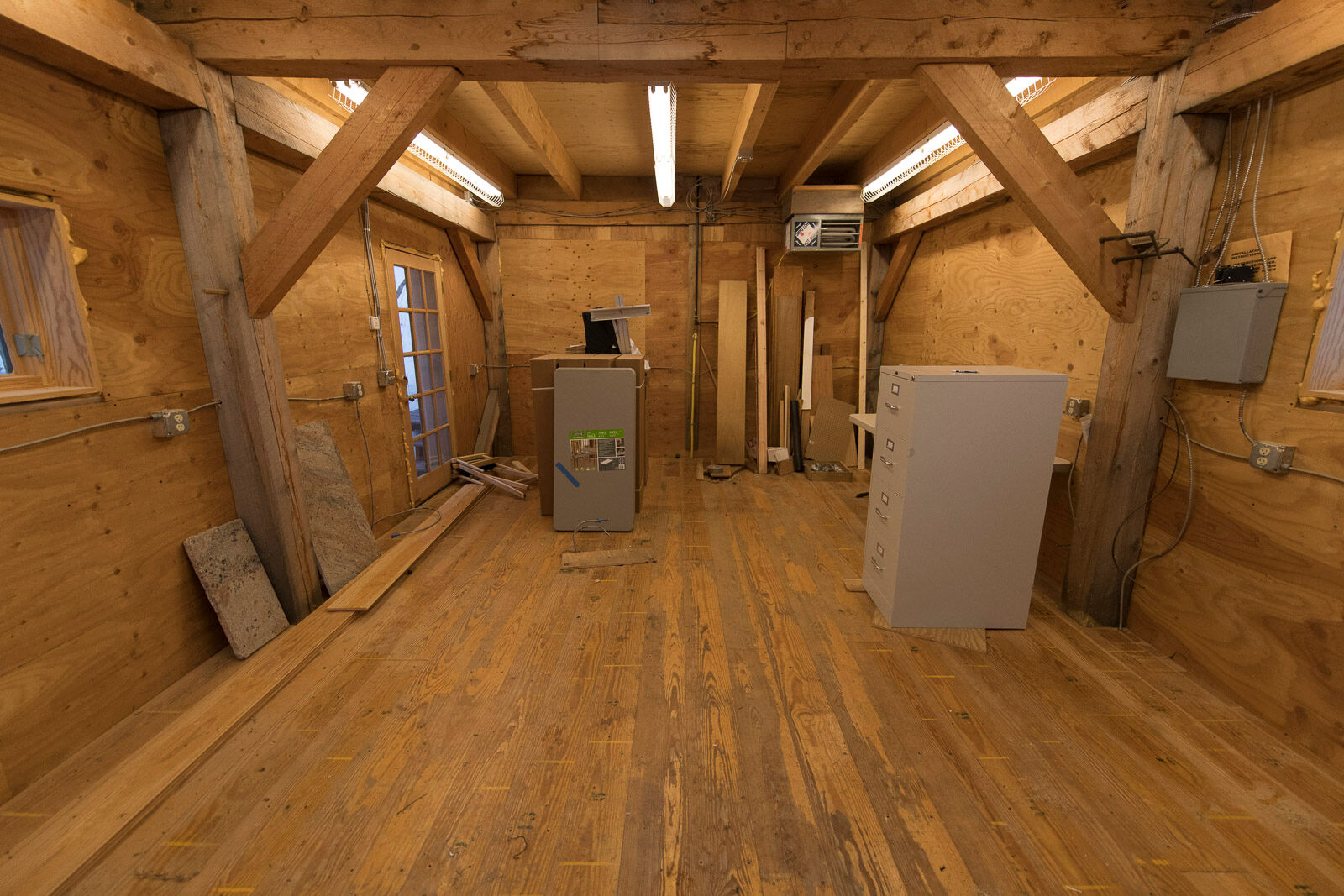 In February of 2018, the work began. First, I had to figure out where everything would be stored instead of in the workshop, which involved some creative storage ideas and a little redesign of our garage. One of the things that the Navy taught me was how to make use of space. Next, we had to start the process of converting an all-wood, plywood walls, rough interior workshop into a fine art gallery. Drywall was installed, electric conduits hidden, an old Hot Dawg garage space heater was replaced with a more refined Williams wall unit, lots of wood gaps were filled with spray insulation, ugly florescent ceiling fixtures were replaced with track lighting, and a plywood ceiling was replaced with tongue-and-groove Blue pine (Michelle and I sanded all 110 pieces and brushed on two coats of varnish). We had the existing flooring (created from school bleacher seats) sanded and varnished with four coats.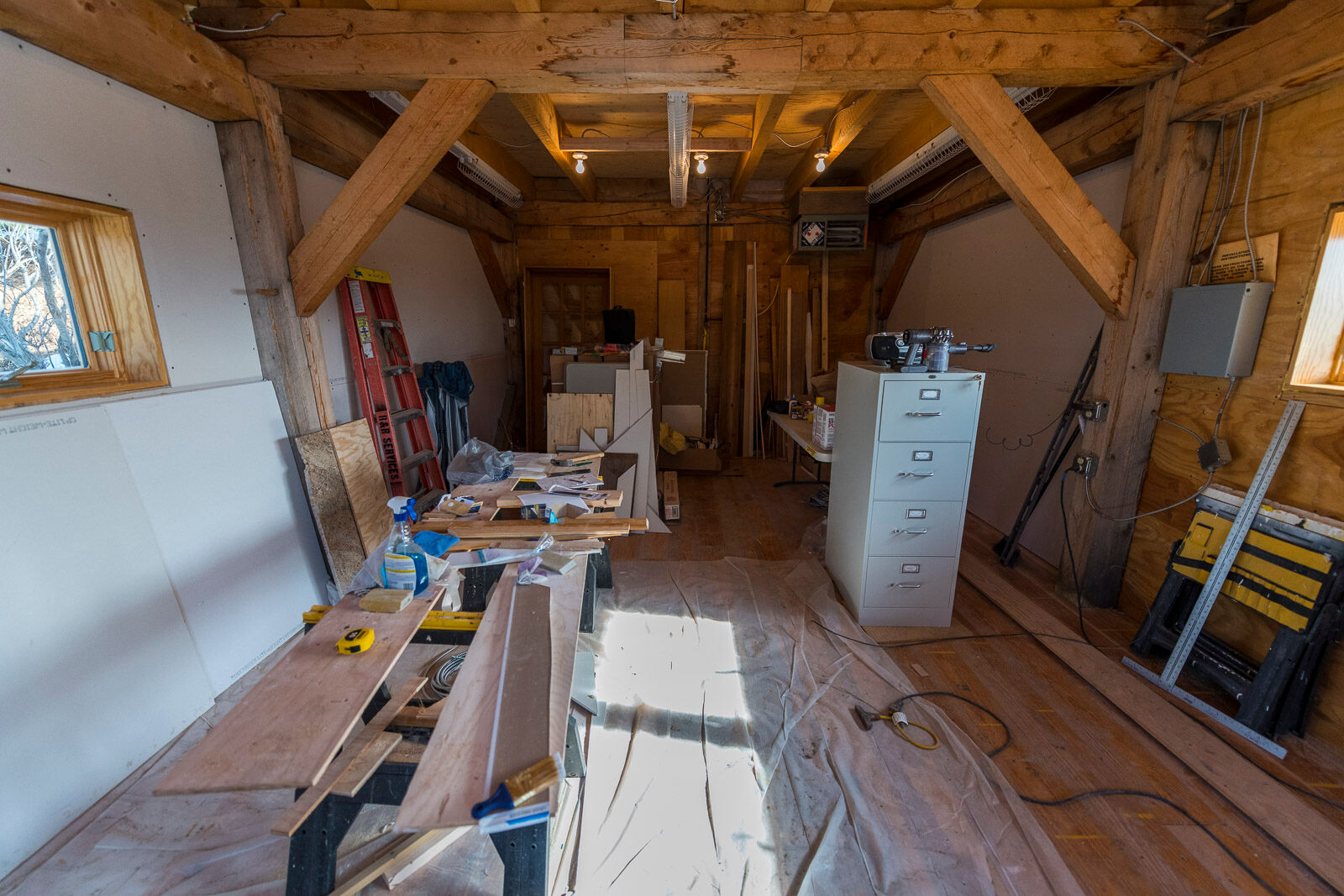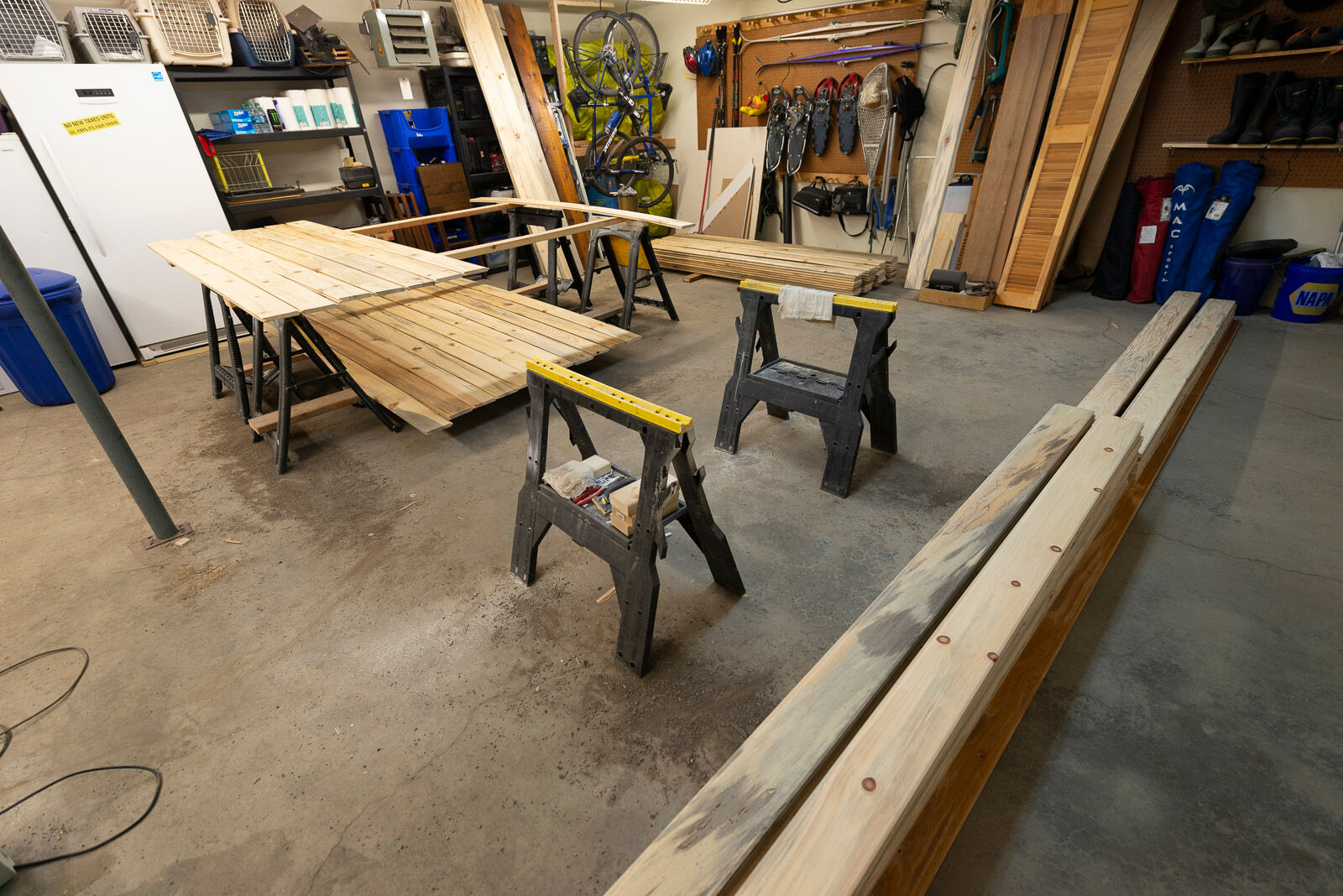 We also had a free-standing wall built to occupy the center of the room to provide for more hanging space. For the larger outer walls, we installed a picture hanging system using hooks and wires. We searched all over the city for appropriate furniture, from established stores and antique shops to Craig's List and Facebook Marketplace. I had a particular combination of looks in mind, and it took several weeks to get all of the pieces in place.
After three months of work, my dream of a proper fine art nature photo gallery was in place. It's a hard thing to do in Anchorage. I have seen photo galleries come and go downtown. Our favorite art gallery, Artique, closed in 2016 after 45 years in business. Anchorage simply is not a market where a fine art photo gallery can survive in the face of downtown commercial leasing rates and the purchasing public. And having my art represented at a gallery was not a good option, either. Downtown galleries charge a 50% commission on all sales, so print prices have to double in order for me to get what I need out of a sale.
Now that you know the story, it's time for a visit. Come up and join us to view some art, have a drink, and chat!