When I take clients out on northern lights tours, there is a period of waiting. Once on location, we wait, looking up at dark skies, longing for that first sign of aurora appearing as a pale arc band across the northeastern sky. During these times, I often hear exclamations of joy at simply seeing the abundance of stars. These expressions often come from people who have lived in large East Coast cities for decades, and have long forgotten what it was like to see so many stars in the sky.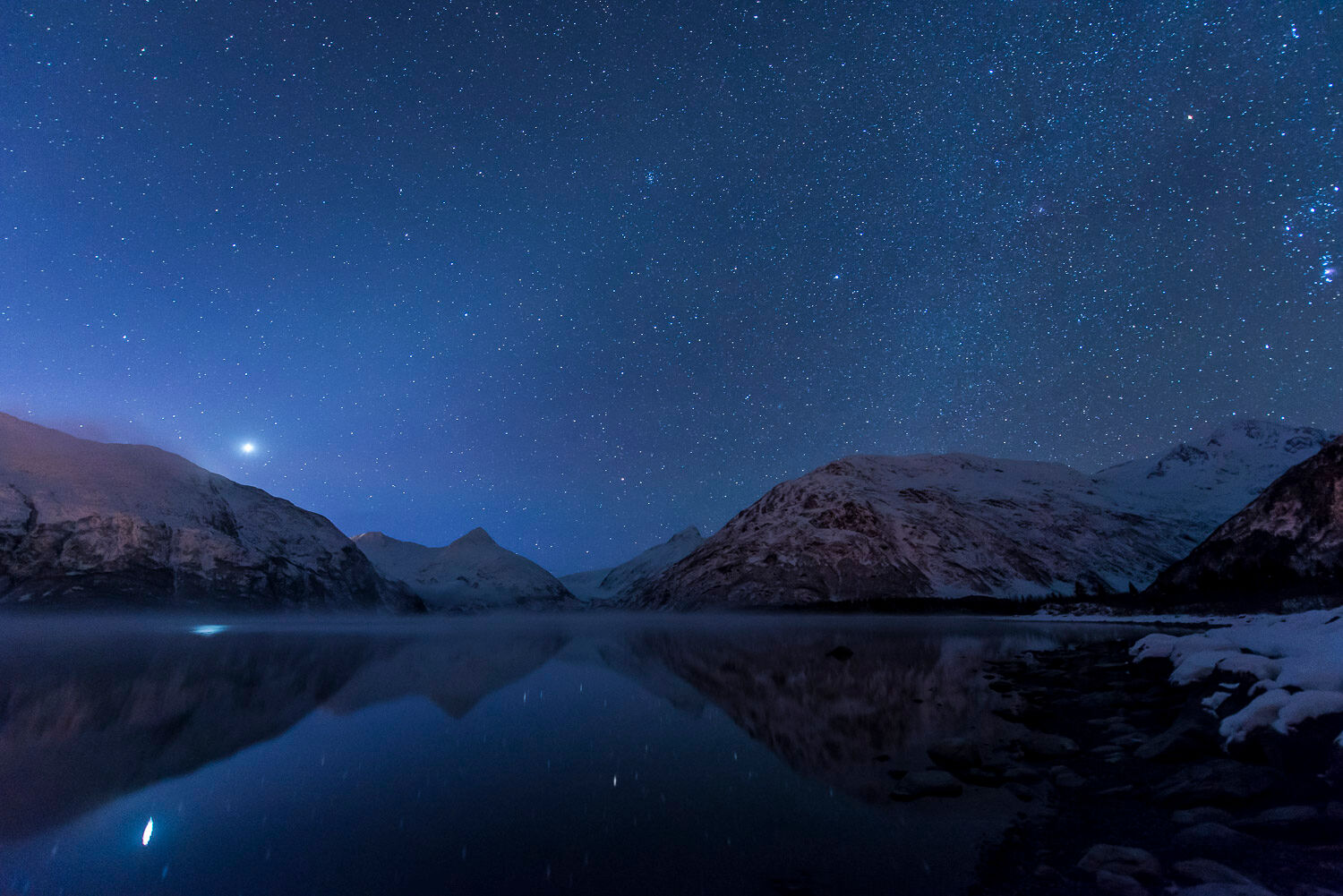 We are lucky in Alaska to easily find dark skies, not very far from our larger cities. Check out the Clear Sky Chart for Alaska, and slide the "Add Light Pollution map: Intensity" bar to around 80%, and you can see who little artificial light there is along with our boundaries.
Looking up at the stars has long been a part of my life. From my childhood, I remember with amazement and wonder as I joined in on Ranger-led programs at Badlands National Park to teach and inspire about the night sky. While out on the ocean in the Navy, I would divert from the Combat Information Center when off watch to the weather decks to pause and look out at the infinite nothingness that was the pitch black Philippine Sea merging with the infinite points of night. Today, I still bask in my love for the night sky, but from the perspective of an artist and a business owner. The night sky is both creative inspiration and commerce for me.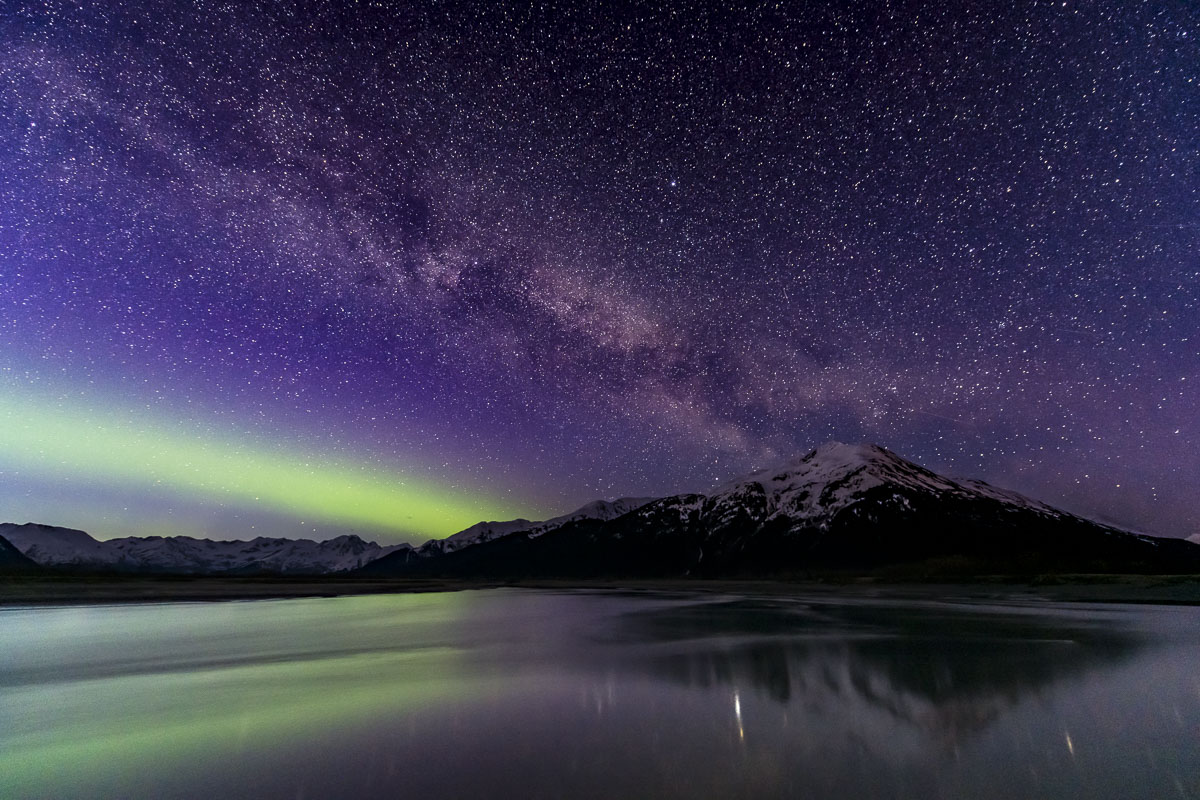 The International Dark-Sky Association was founded in 1988, with a very simple goal: to celebrate and protect a night sky full of stars "as a shared heritage benefitting all living things." Several state and local chapters have formed in the United States, along with several international chapters. There are five levels of dark sky designations that have been established by the Association: International Dark Sky Sanctuaries, International Dark Sky Parks, International Dark Sky Reserves, Urban Night Sky Places, and International Dark Sky Communities. These go in level from the darkest areas whose conservation state is most fragile (the Sanctuaries) to cities that adopt quality outdoor lighting ordinances and educate residents about the importance of dark skies (Communities). There are nine Sanctuaries established in the United States, including the Boundary Waters Canoe Area Wilderness where I once worked as a canoe guide. Overwhelmingly, the Dark Sky Parks are located in the United States, and include some familiar locations like Zion National Park, Joshua Tree National Park, and Great Basin National Park. Those cities that have been certified as International Dark Sky Communities cover red and blue states, ranging from Fredericksburg, Texas (one of six certified Texas communities) to Sedona, Arizona, and Borrego Springs, California.
In 2009, I was out at night photographing the sky during an artist residency at Badlands National Park. I met another photographer who was out doing the same, and we kept in touch over the years. Now, Travis Novitsky has taken his night sky photography to such a level that is featured in a documentary film about the importance of dark skies, "Northern Nights, Starry Skies." Released by PBS North and Hamline University, the documentary highlights the cherished dark skies of Voyageurs National Park, Quetico Provincial Park, and the Boundary Waters Canoe Area Wilderness. Travis is also an enrolled member of the Grand Portage Band of Lake Superior Chippewa (commonly known as the Grand Portage Anishinaabe). His Tribe recently became the first of the 529 tribes in the United States to recognize the importance of dark skies in a proclamation recognizing International Dark Sky Week.
As much as I have been lucky to photograph dark skies free of light pollution from Alaska to Badlands National Park, in some areas, it is increasingly challenging to find skies of just darkness and distant stars. During a recent trip to the Spirit Mountain Wilderness in the Avi Kwa Ame National Monument in Nevada, there was only one angle in the sky where I could avoid light pollution. I saw five distinct artificial light blooms on the horizon. In Fairbanks, Alaska, a town known for its northern lights tourism, the city recently installed a series of new, super-bright streetlights that additionally impair northern lights viewing. When local tourism professionals complained to the city about the change, city officials essentially shrugged. And when I travel to Norway and Iceland seeking to photograph the northern lights, I find it challenging to find a landscape without artificial lights.
Dark skies allow us to connect with an infinite space of wonder and mystery. They renew and vitalize. They inspire creation and expression. Let us celebrate them and protect them. Join in the effort to create local or state chapters, join a chapter and get involved, encourage state and local lawmakers to incentivize the protection of dark skies. Throughout all of human history, dark skies have been a constant companion. Let's not lose them in the name of "progress."