Like most people, photographers take the year's end to look back on what transpired in the previous year and to look ahead. But as a photographer, this is also a practice I engage in regularly. I look back on what I have photographed to see how I have grown, to reexamine my work, and look ahead to fill the gaps of what I have not photographed yet. Now that I have my Bucket List, that part will be a little easier.

For me, 2020 was an anomalous year in many ways. Yes, the COVID-19 global pandemic changed the shape of the year for many of us. I, too, had travel plans that were cancelled. Michelle and I had planned a Northern Italy wine tour that was cancelled. But, we were still able to accomplish our annual goal of visiting a part of Alaska that neither of us had been to before - this time, Wrangell.

The pandemic also dramatically impacted my photo tour business, Alaska Photo Treks. For most of the summer, we were about 90% down in business. It would have been a great time to get out and explore a crowd-free Alaska. For example, at peak times in the summer, there was no time limit in place at the falls viewing platform at Brooks Falls, Katmai National Park & Preserve. Instead of taking the extra time to engage in more photography, I decided to do something a little crazy and run for the Alaska State Senate. With a 20+ year career in law and policy in Alaska, it was a good fit. I was not successful, but, I came the closest to winning my district than any Democratic candidate has before.

So most of my best image selections for 2020 are from the winter months, when I had the time to get out and shoot. Worthy of note is I was able to complete two video projects. First, I was able to complete a two-year time lapse project to celebrate the beauty of the city of Anchorage in the winter time, The Winter City. Second, I was able to assemble a short documentary of my time on a commercial fishing boat during the Togiak Herring Fishery back in 2013.
Unless otherwise indicated, all photos captured using a Nikon D850 and Nikkor lenses.
1. Frosty Downtown
January typically brings a period of cold, still conditions where ice fog coats the landscape in thick hoar frost. In 2020, that period lasted longer than usual, providing great opportunities to explore various parts of the landscape. While most Anchorage skyline photos are typically taken from over in the Point Woronzof area, I have always liked the angle from the Ship Creek area. On one frosty day, I spent an afternoon in the Ship Creek area working on my Winter City time lapse, and then stuck around after sunset to find the angle for this image.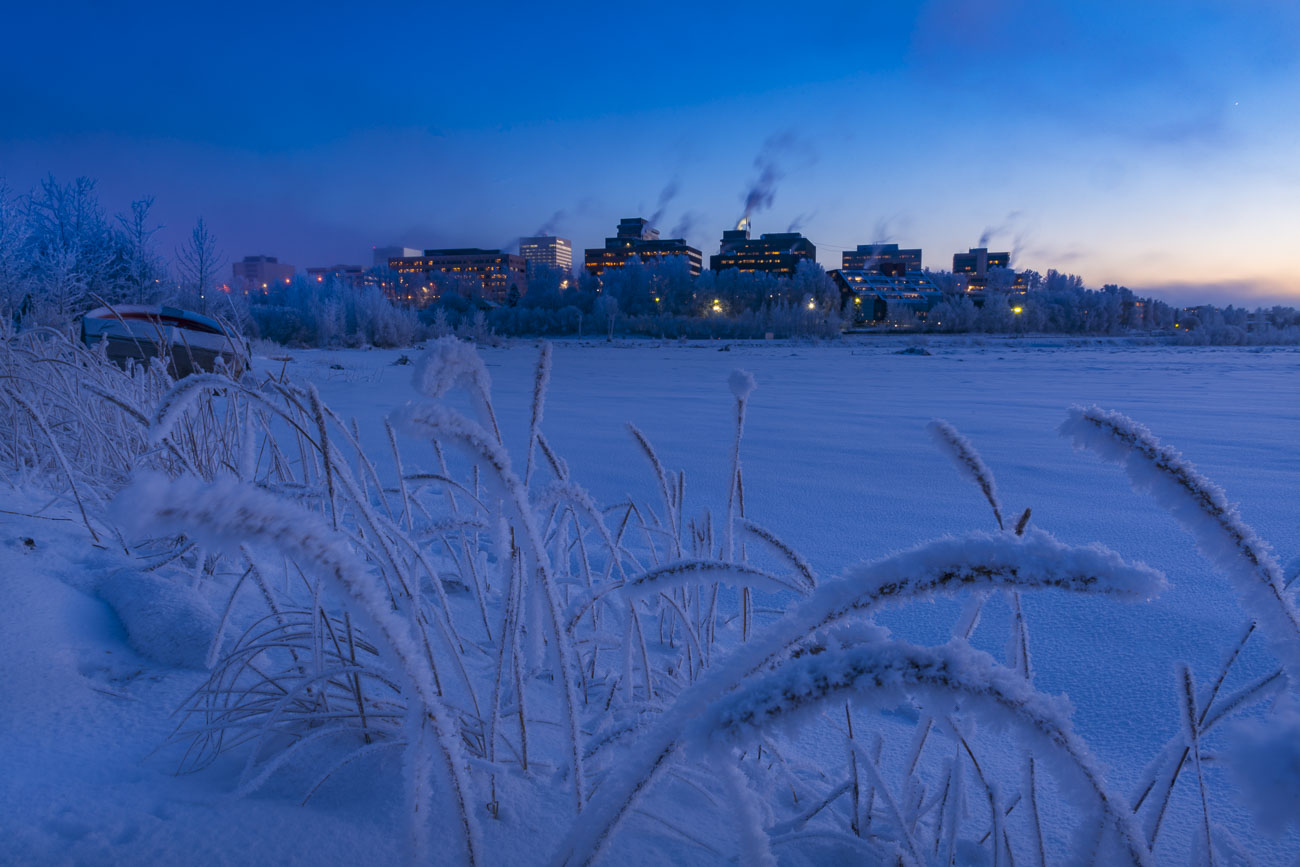 2. Moose and O'Malley
While hosting a tourism professional on a custom photo tour, we came upon a bull moose browsing on shrub branches near the Glen Alps overlook in Anchorage. I did not have any winter photos of a bull moose that still had its antlers (they drop them in winter and grow a new set each year). It was a cold, crisp day, and the wind was blowing higher up on the peaks. We spent about 45 minutes with the moose, photographing him as he moved along. This was my favorite image from the series.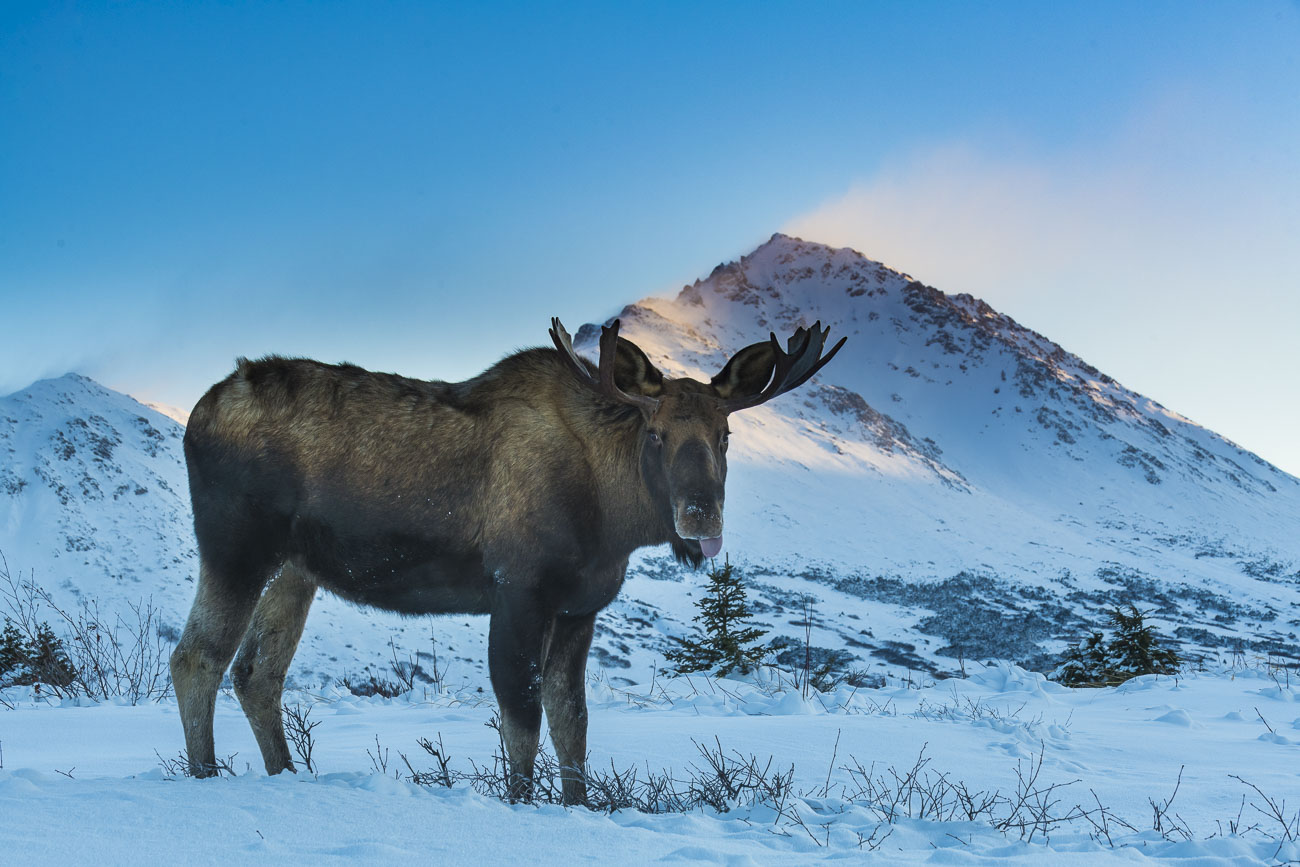 3. Nighttime Musher
I have been wanting to add more winter options to multi-day photo excursions for Alaska Photo Treks. So, Michelle and I decided to take some time in late January to head up north. First, we spent a few nights up at the Tonglen Lake Lodge, and continued to Fairbanks. While there, we spent time on a tour with the Last Frontier Mushing Co-Op. The tour begins at 9:00 p.m. with a brief indoors introduction and donning of gear in their traditional Himalayan yurt. Then, you head out for a nighttime ride on a frozen river, sitting in the sled as the guide drives the team. About an hour later, you return to the yurt and hang out, eat some snacks and have hot drinks while you wait for the aurora borealis to appear. It is a marvelous tour experience and I highly recommend it! Here, I asked the guide to stop on the river so I could capture this nighttime shot. Michelle is barely visible in the shot, standing on the other side of the guide having a chat while I take the picture.I had to create two different exposures in one frame to create the shot, as the head lamp of the musher was too bright to allow me to expose for the sky. I accomplished this by placing my hand over the part of the lens that included the foreground, allowing the sky to expose for most of the time and then removing my hand to expose the foreground.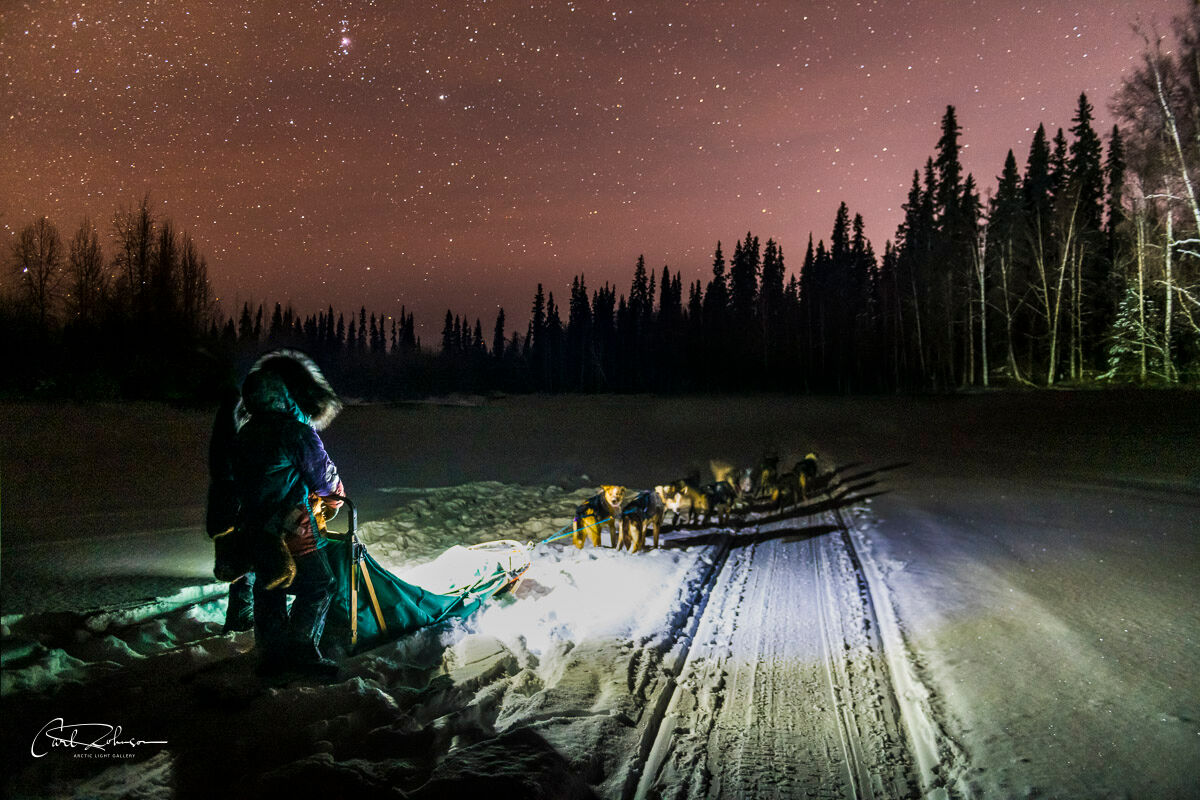 4. Pausing Lynx
We have seen a lot of snowshoe hare on our property over the years. The snowshoe hare population typically goes through a boom-and-bust cycle that runs about eleven years. As these hares are the primary food source for Canada lynx, their population follows that of the snowshoe hare, peaking around 1-2 years after the hare population. And lynx can go on tremendous migrations, presumably following food sources, with some going as far as one documented instance of 2,000 miles. While we have seen lynx in the neighborhood, and Michelle watched one kill and eat a snowshoe hare in our backyard while I was away on a Princess Cruises lecture gig, I had never had a chance to photograph them. Our six wildlife video cameras we have installed around our property helped to change that. Starting in early January, I noticed a pattern of regular visits by a family of five lynx - one adult and four juveniles - as they crossed through our property across a trail in an alder patch. I even staked out that spot for four days in a row, but had no success. Then one day I was snow blowing the driveway when I saw a lynx up the hill, stalking along the road. I quickly ran down, grabbed my camera, and sat in my stakeout location and waited. Five minutes later the first one came through, then all five eventually over the next twenty minutes.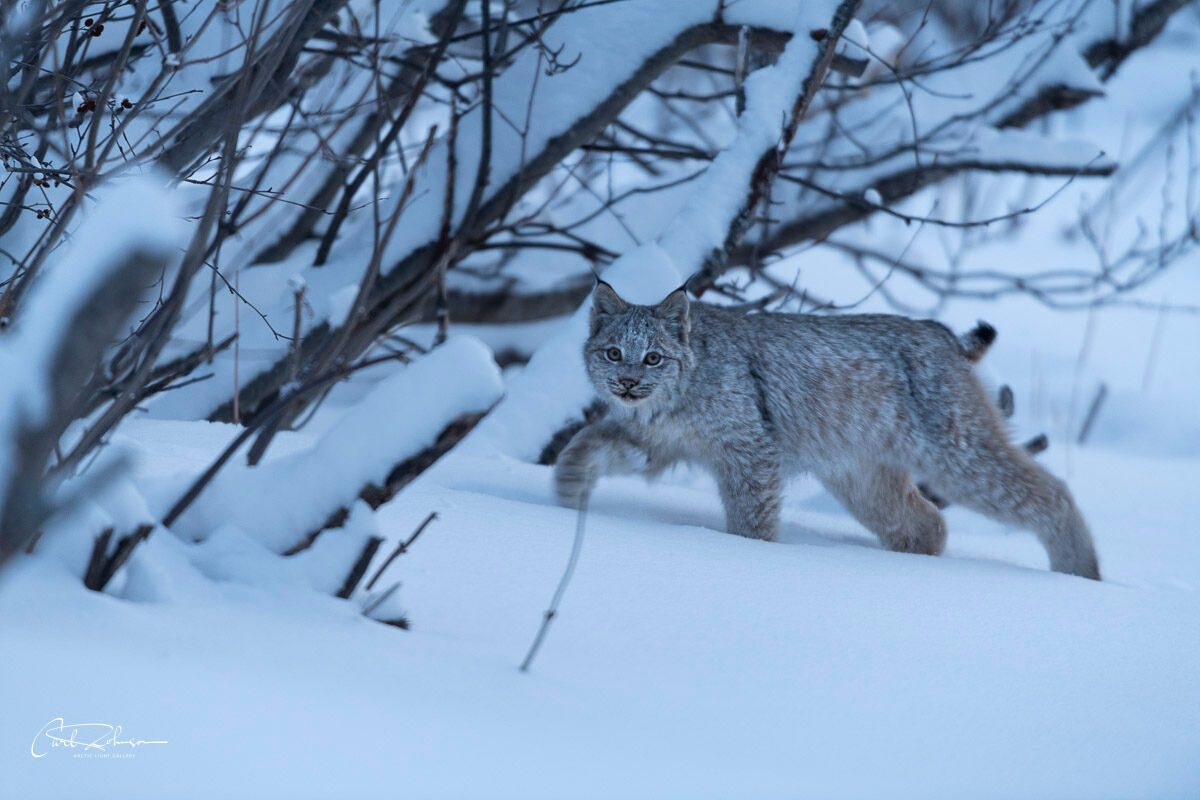 5. Fur Rondy Fireworks
Every year in February, Anchorage hosts a ten-day winter festival called the Fur Rendezvous, or Fur Rondy for short. In 2019, after living here for twenty years, I finally decided to photograph the Fur Rondy fireworks with the Anchorage skyline. So for 2020, I wanted to try a completely different angle - from the pedestrian bridge over Ship Creek alongside A Street. I had photographed fireworks from this position for New Year's Eve, but the cloudy, snow conditions muted the scene a bit. We had perfectly-clear conditions. For 2021, I will be trying a new angle - stay tuned!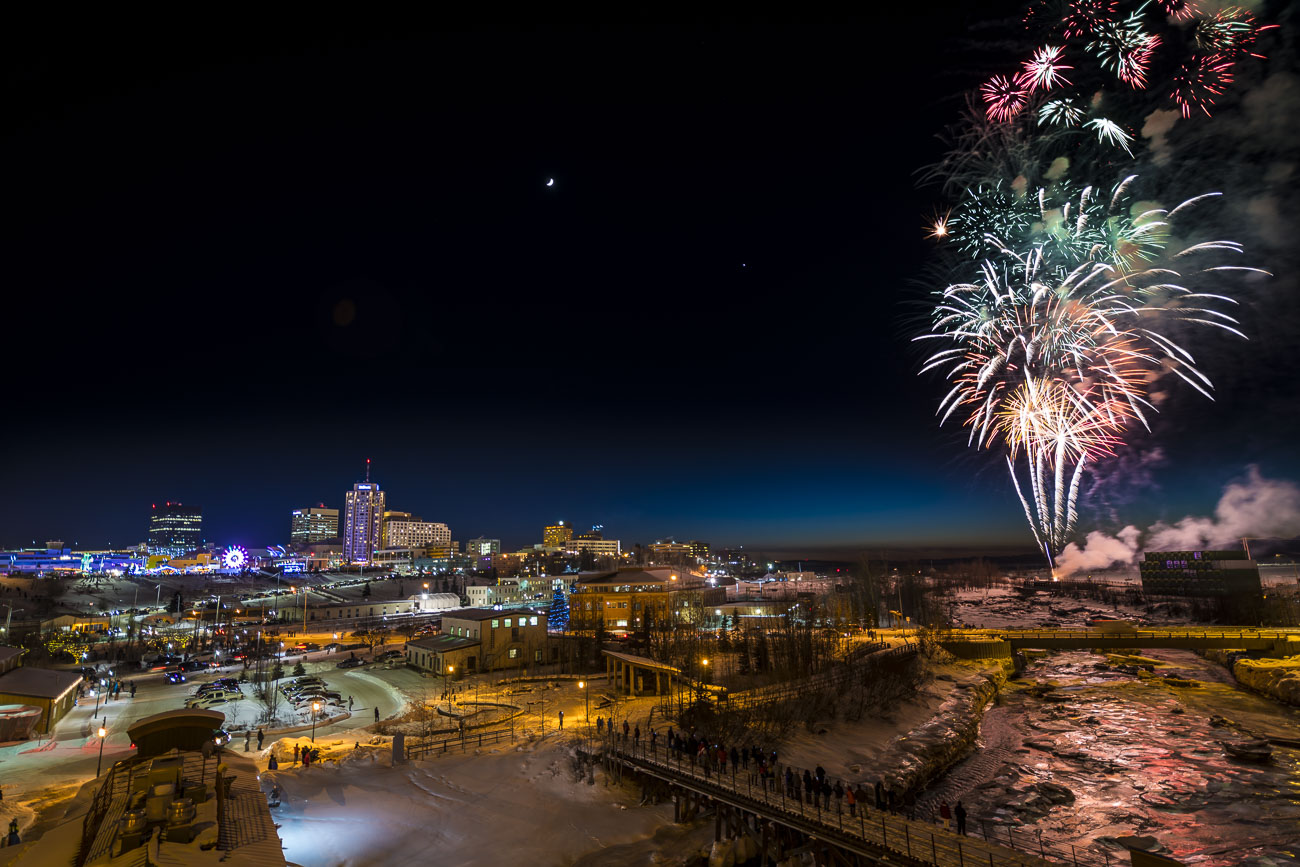 6. Turnagain Patterns
I purchased a DJI Mavic 2 Pro drone in late December 2019, after having test-flown one during a custom photo tour with a client earlier in the year. After doing isolated test flights from our property during the winter, I finally took it out for a "real" flight in the spring. I chose to head south to the Turnagain Arm, as most of the scenic areas in Anchorage are within flight restriction zones. It was low tide, which created perfect opportunities for aerial photography.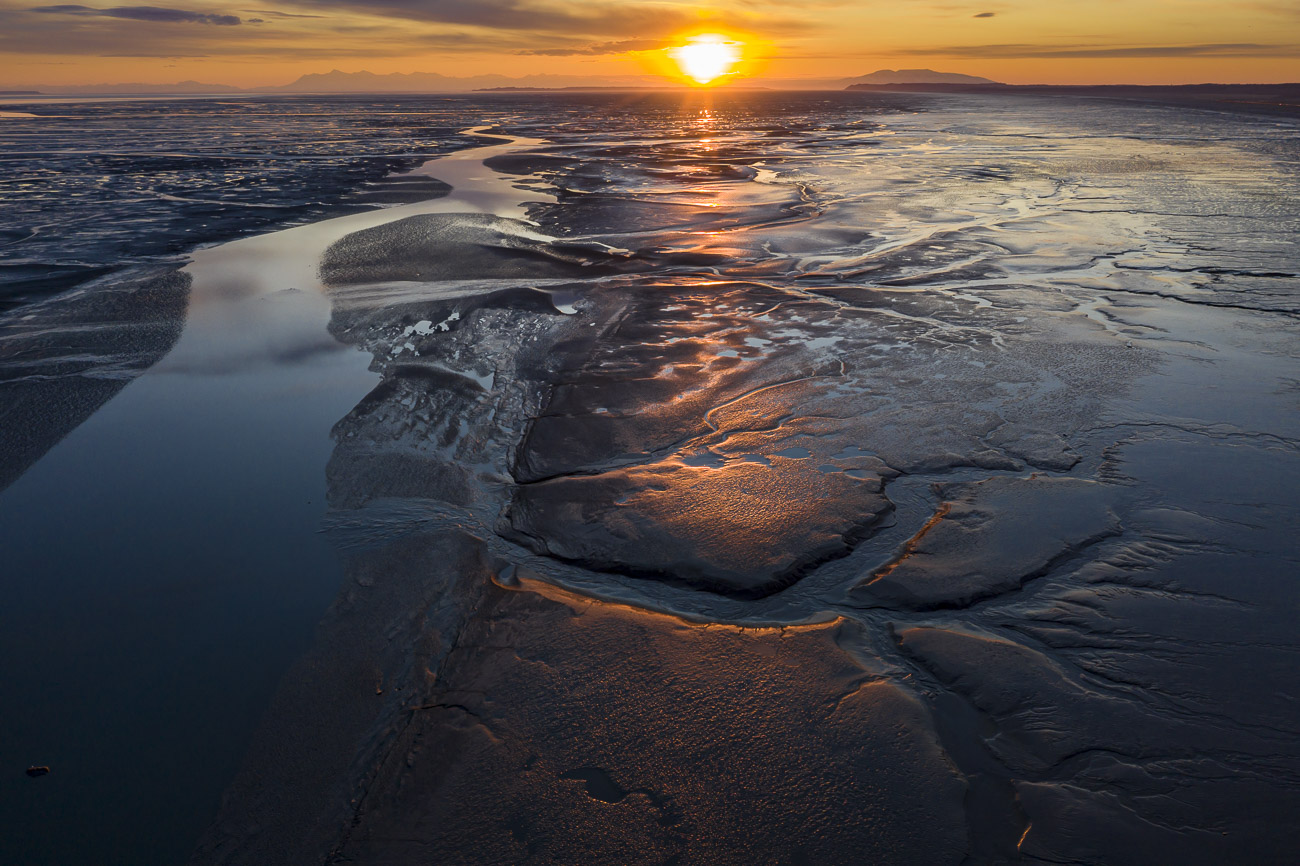 7. Safety Perch
In early August, Michelle and I headed to Wrangell to visit with Alaska Charters & Adventures. We wanted to check out some of their tours to create a new multi-day excursion for Alaska Photo Treks, the Treasures of the Southeast. The first place we visited as part of the trip was the Anan Creek Wildlife Observatory, located in Tongass National Forest. It is the best location in Alaska to photograph black bears, and has long been on my Alaska photo bucket list. There were two sets of sows with a cub that day, and I photographed this pair quite a bit. While I was very happy with the photos I took this day, this sow, with her distinctive chest markings, was a favorite. Here, she and her spring cub perch from the elevated safety of a fallen tree. Several boars are feeding on salmon nearby, and the mom is waiting for a chance to run down, catch a salmon, and bring it back up to feed. Boars will often kill cubs in order to induce estrus with the sow, so feeding near boars can be a serious risk for the cub's safety.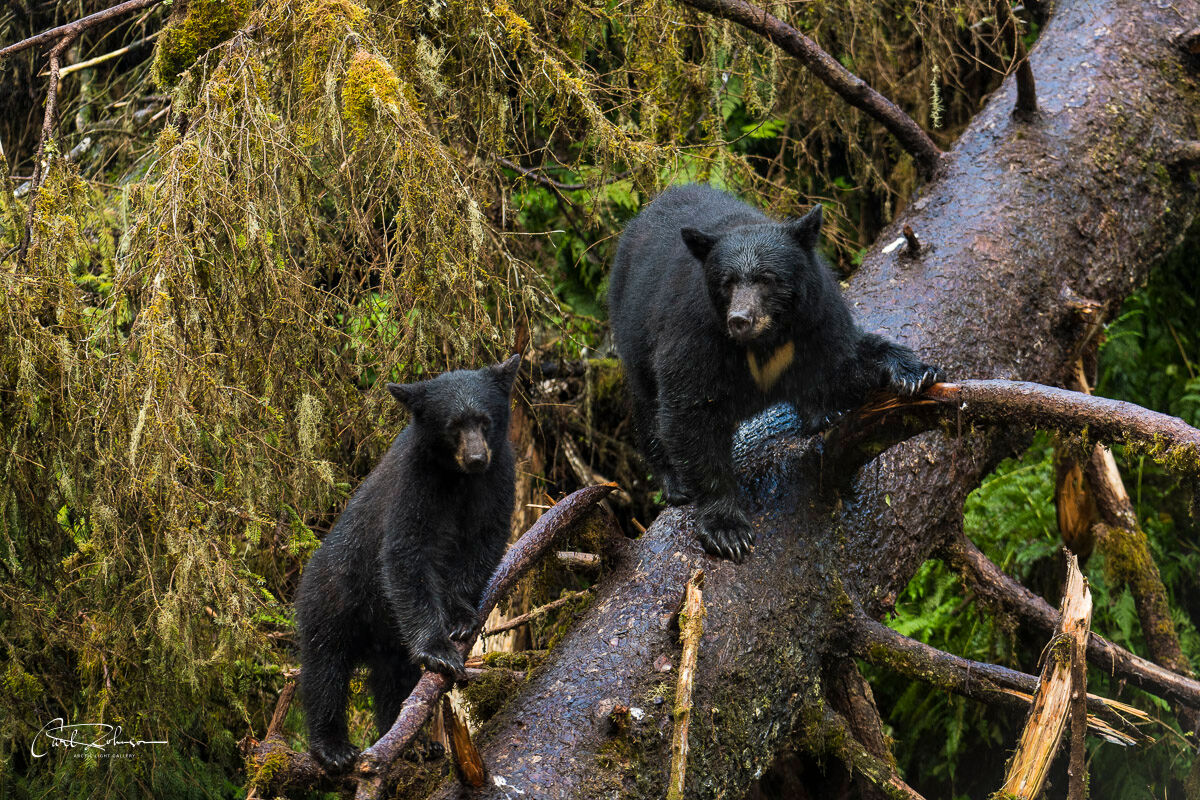 8. Bubble Feeding No. 1
The second part of the Wrangell trip, and another bucket list item, was to photograph humpback whales while they were engaged in bubble net feeding. We spent approximately three hours with this pod of whales as they continuously fed. While I was happy with many of the photos, this angle with the background landscape was my favorite.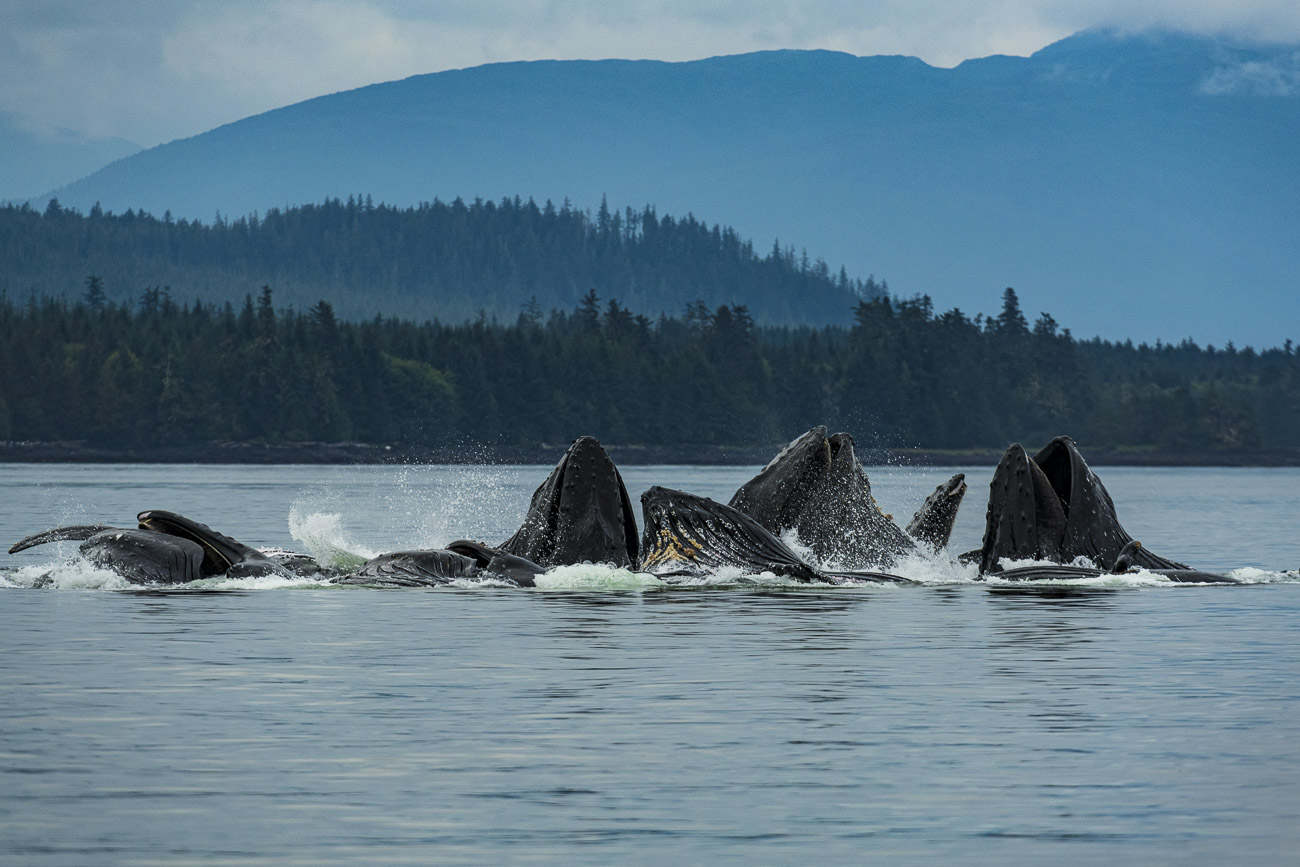 9. Mountain and Pipeline
The only other photo trip I was able to take away from Anchorage was with a client who wanted a multi-day custom tour up in the Brooks Range. While this normally an annual photo workshop, we cancelled it in 2020 due to the pandemic. This part of the Dalton Highway offers several fantastic opportunities to photograph the Trans Alaska Pipeline with the mountains of Alaska's Arctic mountain range. During this tour, I drove farther north than I ever have, which allowed me to see this particular vantage point of the pipeline during the return back south toward where we were staying in Wiseman. The massive peak in the background is one of many that has no name.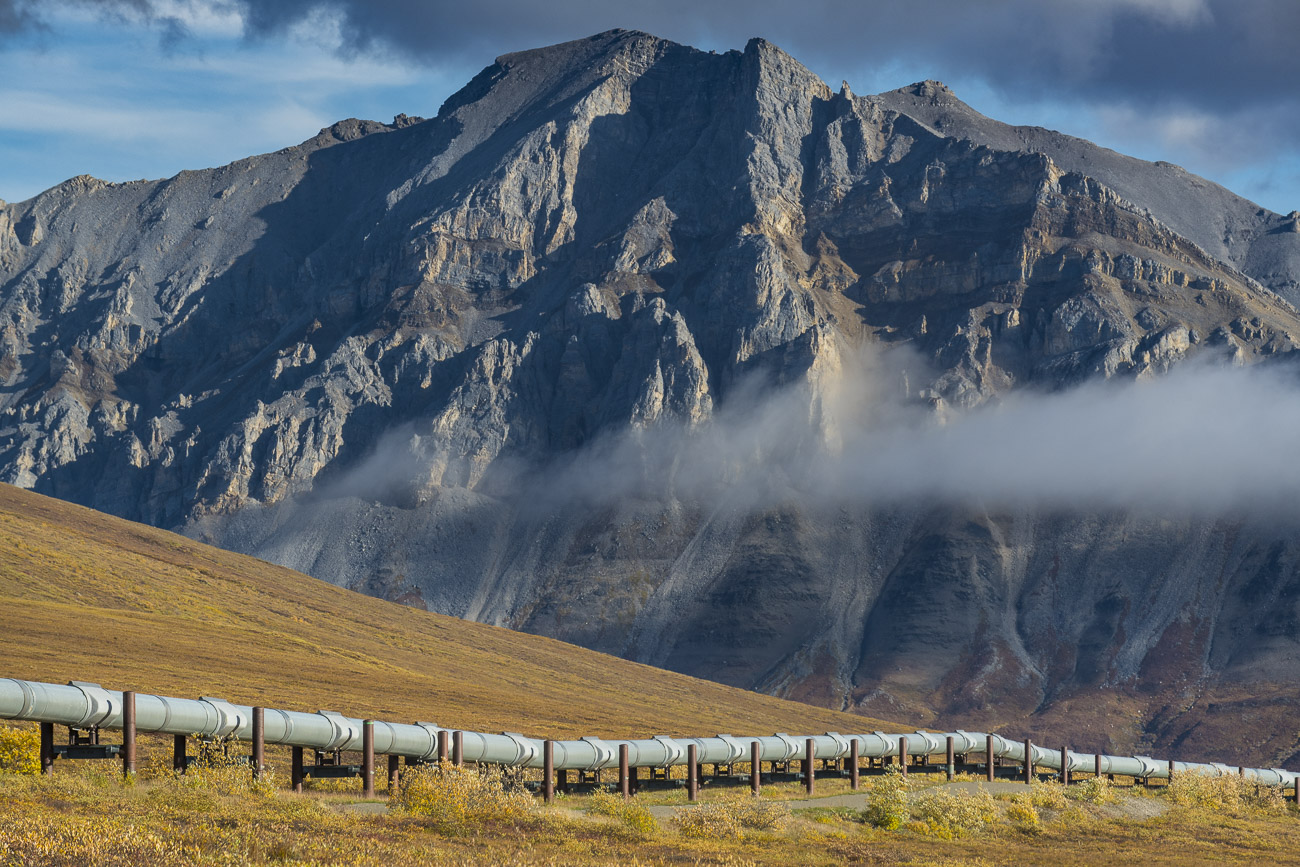 10. Light on Ridge
I have enjoyed photographing this rugged, distinctive mountain ridge from ground level near the Dalton Highway on numerous occasions. But the ground vantage point failed to capture what I thought were the best features of the unnamed ridge line. Now equipped with my DJI Mavic 2 Pro drone, I was finally able to get a shot that captured its awesome features. The perfect evening light was a marvelous accent.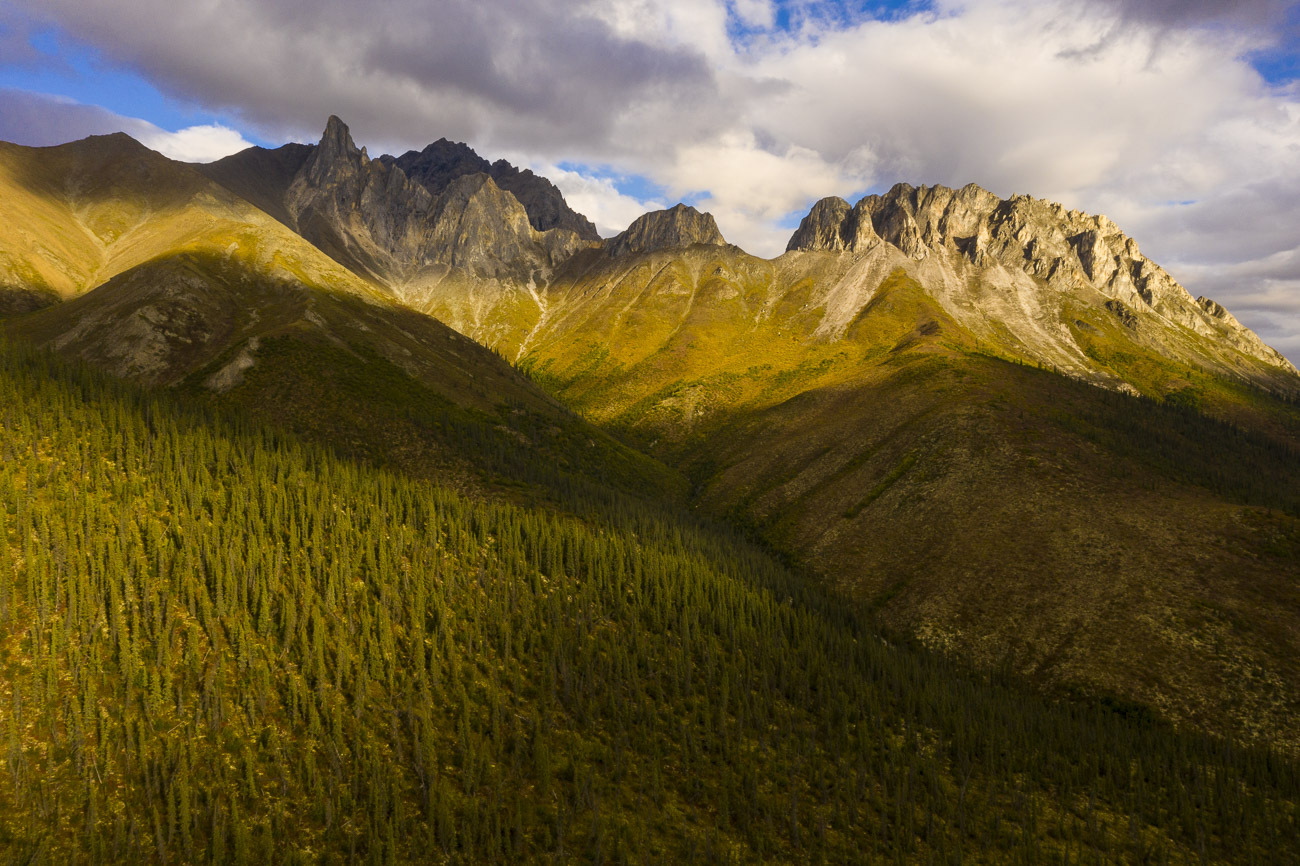 11. Bishop's Rays
Michelle and I decided to get away and off the grid following the election. We booked a public use cabin at Halibut Cove in Kachemak Bay State Park.It was a wonderful time, and something we really needed. Our days were spent hiking, doing some chores like firewood gathering and prep, playing games and reading. After we returned to Homer, we had a last breakfast (from Two Sisters Bakery) down on Bishop's beach before heading back to Anchorage.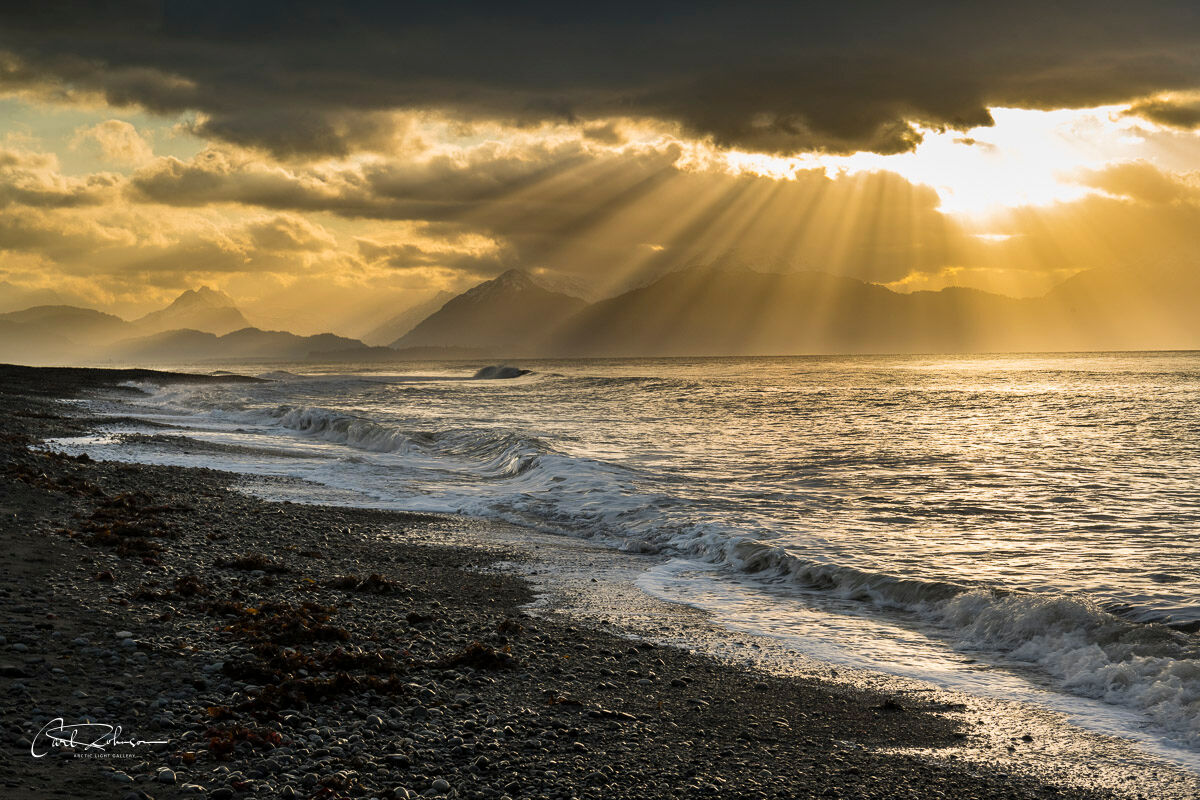 12. Confluence Aurora
Once in a while, there is a good aurora forecast but no bookings for my Anchorage Aurora Quest tour. On one such night in November, I decided to head up to Talkeetna to photograph the aurora. The town is located at the confluence of the Talkeetna, Susitna, and Chulitna rivers. Following the confluence, it is just the main Susitna River. At this time of the year, the river is mostly frozen, but I was able to find this patch of open water to get some reflections and add an additional element of composition.